Better Health
Starts With

A Great Team
Our Mission Is To Help Individuals Achieve Health
and Maintain Wellness.
Limited Time New Patient Special
$150 New Patient Special Program! For a limited time, save up to $275 off your initial visit.
You will receive a consultation, spinal examination, x-ray's (if necessary) and a doctor's report of findings for only $150!
New Patient Special For Only
$150
*Must be paid at time of service to claim New Patient Special Discount. Does not include treatment.
Get Fast Relief with the Top Chiropractor in Gresham, OR
Stop letting chronic pain get in the way of your life. Better health starts with expert care from Aspire Chiropractic. We are a leading chiropractic care center in Gresham with a wide range of affordable chiropractic services like auto injury care, whiplash treatment, lower back pain, spinal decompression therapy, chiropractic care for kids, sports injuries, work injury, sciatica pain treatment, massage therapy, headache treatment, numbness & tingling, posture correction, back pain treatment, neck pain treatment,ankle pain, knee pain, carpal tunnel syndrome treatment, bulging disc injury treatment, herniated disc injury treatment, frozen shoulder treatment, shoulder pain treatment and red light therapy, oxygen therapy (LiveO2).
You can also visit our clinic if you need a walk-in chiropractor or an emergency chiropractor. Schedule an appointment with a local chiropractor or stop at our clinic in Gresham.
Personalized Chiropractic Treatment From a Top Family Chiropractor
Aspire Chiropractic is a chiropractic clinic with a comfortable setting, friendly staff, and exceptional care. You can rely on our team and a top personal injury chiropractor to address your pain with personalized chiropractic therapy.
Whether you need a chiropractic adjustment or ongoing chiropractic therapy, a family chiropractor from our chiropractic care center is ready to help.
Need a Walk-in Chiropractor or Emergency Chiropractor in Gresham?
You should not need to wait for necessary chiropractic treatment. You can walk into our chiropractic clinic and get seen by a skilled local chiropractor with over 15 years of experience. We offer fast, reliable service, as we have two doctors and a dedicated team available to address your needs.
Why Choose a Chiropractor Near Me in Gresham?
Choosing a local personal injury chiropractor ensures easier access to the treatments that you need. Instead of dealing with a long car ride, you can stop in on your way home from work or any time that works best for your schedule.
How to Book a Chiropractor Near Me
If you want affordable chiropractic services in Gresham & Portland, OR, contact us at Aspire Chiropractic. We accept new patients and look forward to helping you overcome your pain.
Schedule an initial exam or chiropractic adjustment with a trusted chiropractor in Gresham, OR.
Personalized Treatment
You will receive a full individualized treatment.
Expert Care
Your treatment will be performed by a licensed professional.
Experienced Staff
Dr. Betsill and Dr. Coughlin offers over 15+ years of chiropractic experience.
Comfortable Clinic
Our clinic is personal and feels very comfortable.
1-on-1 Treatment
We have two doctors at our clinic, where you will establish care with one, but can be treated by both.
Health Goals
We'll set goals as the best way to enjoy a successful outcome.
Services Offered by our Gresham Chiropractor
Auto Injury Care
We understand when you're experiencing pain and discomfort in your body, it can leave you feeling hopeless and frustrated. Neck pain, back pain, and headaches as a result.
Back Pain Treatment
Chiropractic treatment for back pain at Aspire Chiropractic in Gresham includes a combination of natural techniques such as spinal adjustments and spinal therapy.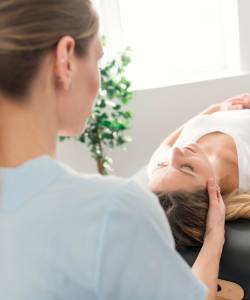 Neck Pain Treatment
Almost everybody experiences neck pain at one time or another. In most cases, neck pain is not a serious condition but pain and stiffness of your neck can be very uncomfortable.
Spinal Decompression Therapy
Are you suffering from pain and stiffness caused by wear and tear of joints in your neck or lower back? Have you had MRI's followed by shots or even.
Chiropractic Care
Spinal correction is at the core of the chiropractic care we provide — your spine is your body's central information highway. As we age, misalignments in the spine can occur.
Chiropractic for kids
Pediatric chiropractic adjustments are gentle, noninvasive, and safe. Newborns and children at Aspire Chiropractic have experienced amazing results with ear infections.
Gresham's – East County Chiropractor
Dr. Mark Betsill
Dr. Mark Betsill, D.C. is a chiropractor in Gresham, Oregon. Dr. Betsill has been treating and effectively helping individuals for over 10+ years. He received his undergraduate degree in Physical Education and Health from Boise State University.
During his education, he became intrigued by health and the human body and was searching for a way he could use this passion to help others.
After being helped by a Chiropractor for an upper back injury that was hindering his golf game, Dr. Betsill knew that Chiropractic was the perfect vehicle to study health and the human body to help
Will I be adjusted on the first visit?
The doctor will make that decision based on your presentation, exam and x-ray findings. If you're in a lot of pain the doctor will provide some type of relief care to help you. In most cases your first adjustment will be performed on the second visit. This gives the doctor time to review and analyze your x rays so he makes sure you get the most accurate first adjustment to help and start the healing process of your condition.
What conditions do you treat?
We treat many common conditions including but not limited to; neck and back pain, headaches, disc herniations, sciatica, numbness, tingling, weakness, extremity problems, whiplash, auto and work injury, sports injury, and of course that stubborn back of yours that has gone out again pinching those nerves.
Does being adjusted hurt?
We do everything we possibly can to make sure you have the most comfortable adjustment possible. Again, this is one reason we x ray your spine. We also utilize gentle low force techniques such as Activator Technique, Drop Table adjustments. With all that said there is a chance you may become sore but most of the time that just feels similar to soreness after a workout. We will provide you with a complimentary cold pack to help with the occasional soreness from your treatments.
Do you take health insurance?
Yes, we are in network with most health insurance. Bring a copy of your card to your first visit and we will do a complimentary benefits check to let you know what your insurance covers and does not cover.
Do you treat auto and work injuries?
Yes, We have 12 years of experience treating injuries from auto accidents and work injuries. We are also very knowledgeable in the process of setting up your claim and we will help guide you through the steps.
Do you treat expecting mothers?
Yes, We are experienced in treating mothers all throughout their pregnancy. The goal is to support the expecting mother so she has the best possible opportunity to have the shortest and easiest labor and delivery.